Outside is THE place to spend your time in 2022. Whether you're sitting around a fire pit under the stars, eating lunch with your family, working or lounging by the pool, it's time to start thinking about your patio as another room in your home. Creating a livable space that can be enjoyed all year long is easier than you might think—and it's all the little extras that make it feel homey and functional. Check out a few must-have accessories that will transform your outdoor room from basic to beautiful.   
Fantastic Fire
Outdoor fire features—fireplaces, firepits, and fire tables—are one of the most popular design elements for homes today. They instantly become the spot where everyone wants to gather. They create ambiance, warmth and are the perfect entertainment option. If you are looking for something that will fit into your space perfectly, Castelle's new Nature's Wood Firepits are fully customizable—just choose the size, shape, and tabletop that works best for your space. Made of durable cast aluminum that will withstand any weather, they'll last for years to come. So if you want to toast s'mores, kick back with a glass of wine or just enjoy the glow of flames dancing in the moonlight, a fire feature is a must.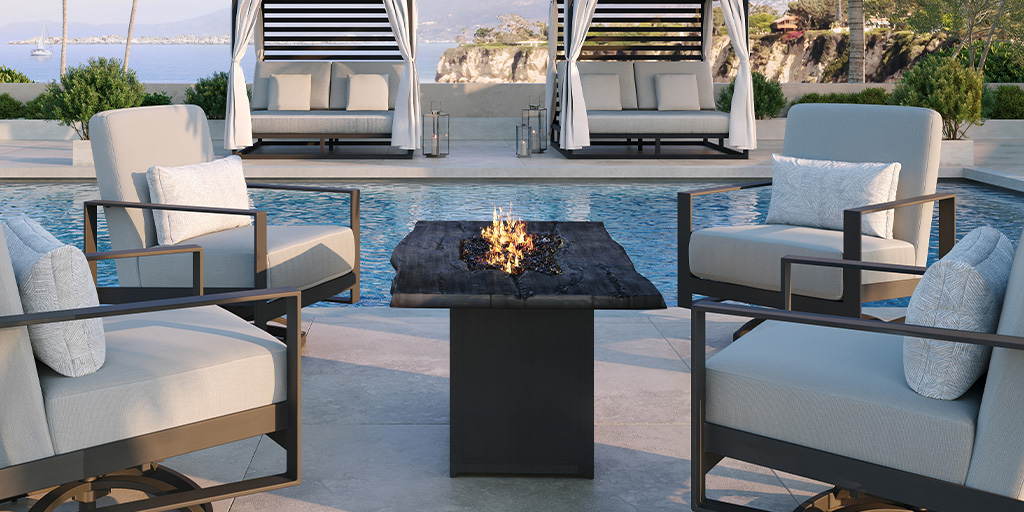 Sensational Serving Carts
Outdoor serving carts are a versatile and often overlooked item that is convenient for entertaining and everyday use—plus, they're super affordable, trendy, and fun. Moveable and lightweight, they make it easy to bring cocktails, appetizers, side dishes, and desserts outside in one trip, which means less in and out of the house. They can also be used as a place for easy access to dishes, cups, napkins, and silverware. If you get creative, a serving cart has many uses beyond the obvious. For example, decorate a cart with a themed banner, add flowers and a festive cake, and it can be transformed into the centerpiece for your next party, baby shower, or event. The Castelle Moderna and Preserve serving carts are a good choice if you want something that is stylish and will last. They are constructed of durable aluminum and feature two large shelves that have plenty of room for all of your stuff. Pick up one (or two) to make your space more useable. 
Dreamy Daybeds
Daybeds are lounging luxury at their finest. If you like to take leisurely cat naps or snuggle with loved ones as the sun goes down, a daybed is something you may love. Consider them a roomy version of a sofa or lounge with stretch-out comfort. Many models offer closable curtains for privacy or protection from the sun. Castelle's Park Place Daybed—featuring a canopy and polished finish—combines style with practicality making it a unique piece that everyone in the family can enjoy.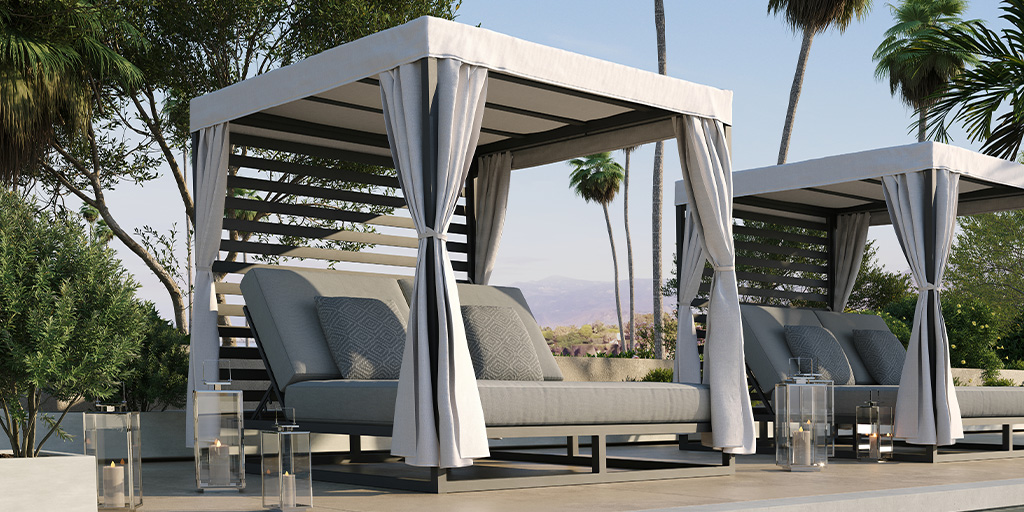 Plush Pillows
Soft, fluffy pillows aren't just for the indoors. Outdoor performance fabrics like Sunbrella® have made it possible to enjoy the luxury of throw pillows on your patio furniture that won't fade in the sun. Design-wise, pillows bring a pop of color and texture that tie together all the elements in an outdoor room. They're also a quick, affordable way to refresh your furniture each season with the latest color trends. Castelle offers a range of throw pillows in various shapes and sizes that will add personality and visual fun to your outdoor space.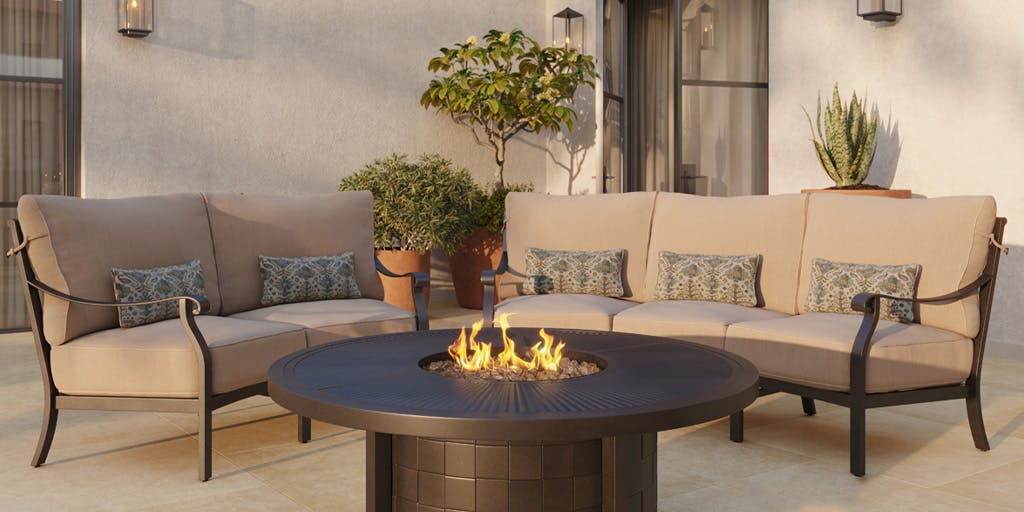 Functional Furniture Covers
Protect your investment with furniture covers that keep the frame, finish, and fabric on your outdoor furniture looking like new year after year. Castelle Tangent covers are UV resistant, waterproof, and designed with a snug fit to stay put on any size/style of furniture even in the most extreme weather conditions. Each corner has sewn loops included for added security in windy conditions. Constructed of lightweight, durable polyester, they are engineered to last and are easy to maintain. Covers are available in a neutral Tangent Hemp fabric color that blends with any outdoor setting.