For over 40 years, Castelle has been blurring the line between indoor and outdoor living with its handcrafted luxury furnishings. The company recently collaborated with actor Neil Patrick Harris and his husband David Burtka, actor/chef, to transform the grounds of their stunning Hamptons home into an open-air sanctuary that they can enjoy year-round with their family and friends.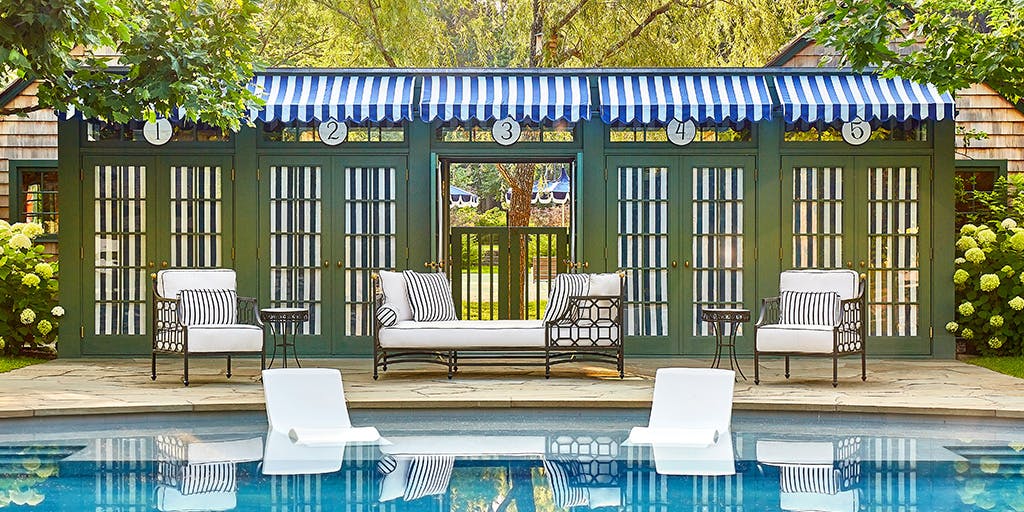 The pool and cabana serve as the focal point of the exquisitely designed exterior space. "We entertain a lot, especially in the summer, and that is where everyone gathers," Patrick Harris explains. With that in mind, the vision was clear. "We wanted a 1930s fun and playful vibe that was still chic and kid-friendly by the pool." Castelle's Barclay Butera Signature Collection was the ideal choice to create the carefree, relaxing environment the duo desired.  
The handcrafted collection was created by California-based design icon Barclay Butera who is known for creating timeless designs that convey a fresh, modern twist. The furniture's striking back and side detail—inspired by geometric tile—exudes Hamptons sophistication with a matte black finish and gold finial accents. The shady, tree-lined cabana offers a bird's eye view of the pool, so the seating had to be both stylish and comfortable. The inviting lounge area features two sumptuous sofas arranged for conversation, an elegant lounge chair, and a pair of oversized ottomans with coordinating coffee and occasional tables. The grouping's plush, tailored cushions, in Sailcloth Salt fabric with Canvas Navy welts, add the comfort profile that Patrick Harris was looking to achieve. "Castelle furniture is unbelievably comfortable, so besides looking incredibly cool it's also easy to take a nap on. Are we nerds if we say the furniture is super comfy?" he adds. 
Across the pool deck is a decadent Barclay Butera daybed, a pair of luxurious reclining chaises, and two lounge chairs that create an idyllic spot to relax and soak up the afternoon sun or enjoy a leisurely nap in the long, lingering days of summer.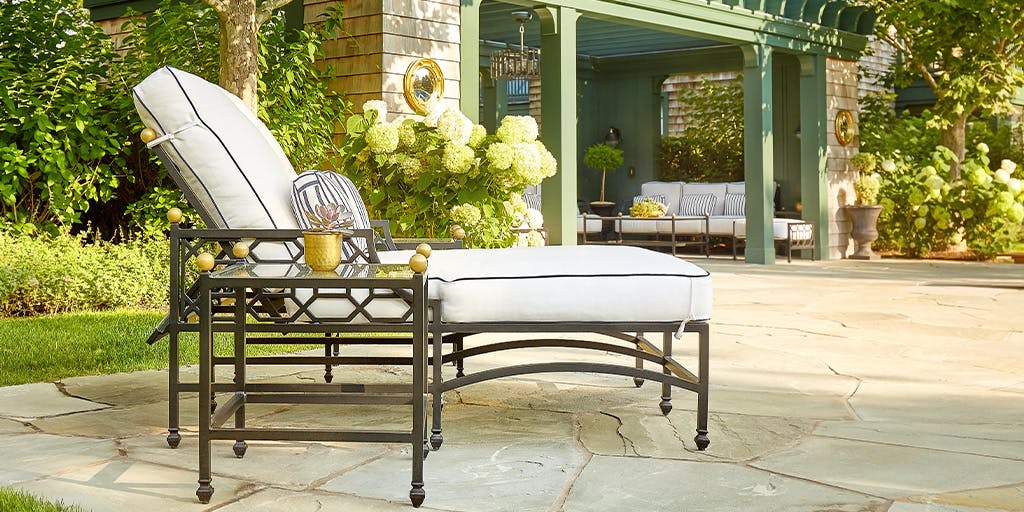 Given the pair's passion for entertaining, the alfresco kitchen and dining space were designed with daily use in mind. Castelle's Biltmore® Antler Hill Tables are the visual centerpiece of the tranquil, yet functional dining/entertaining area. Artfully placed down the center of the space, the hearty 10-foot tables add old-world styling and warmth to the otherwise immaculately groomed gardens. Just the right size for family meals or large gatherings, the spacious tables feature reclaimed wood cast aluminum tops in a weathered grey finish. Alongside the adjacent outdoor kitchen is a casual bar area outfitted with six Castelle Marquis Armless Bar Stools customized in a Black Walnut finish and Asgard Hazelnut fabric cushions. They add extra seating and a comfortable place for guests to relax and chat with the backyard chef as smells from the grill waft through the air.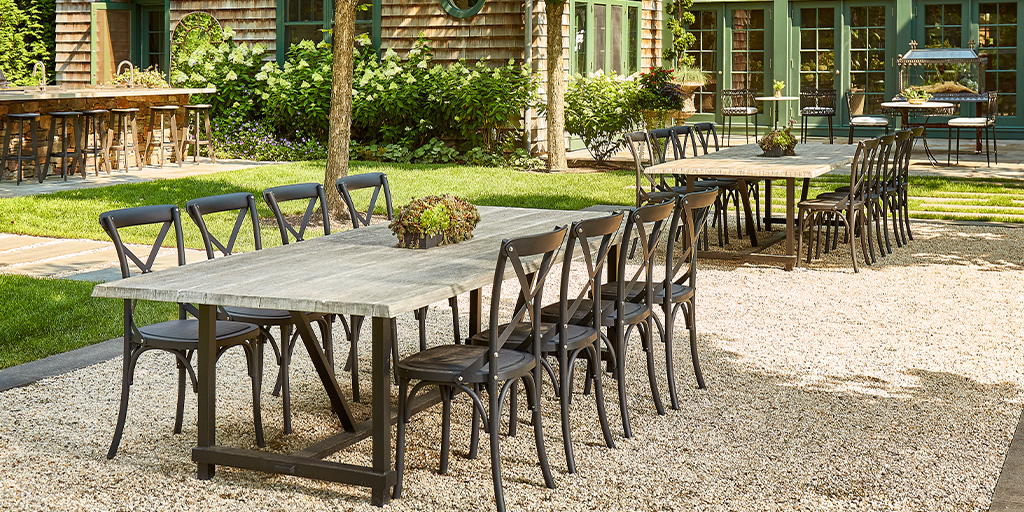 With summer approaching, Patrick Harris and Burtka are looking forward to the pure enjoyment of every day life in their newly designed outdoor retreat. Patrick Harris adds: "Castelle totally got our vision—we couldn't be happier."