Our latest outdoor furniture designs seamlessly blend durability, comfort, and luxurious elements, all while offering the freedom of configuration. Gone are the days of settling for generic designs that fail to reflect your unique style and preferences. With our new collections, you have the power to personalize every aspect of your outdoor living space. Imagine lounging on a sumptuous sofa or reclining in a cozy lounge rocker that not only withstands the elements but also provides cloud-like comfort. From selecting the finest materials to choosing colors and patterns that resonate with your aesthetic sensibilities, Castelle outdoor furniture promise to transform your outdoor oasis into a haven that truly reflects your personal style. Explore our latest releases where durability, comfort, luxury, and personalization converge to create the outdoor retreat of your dreams.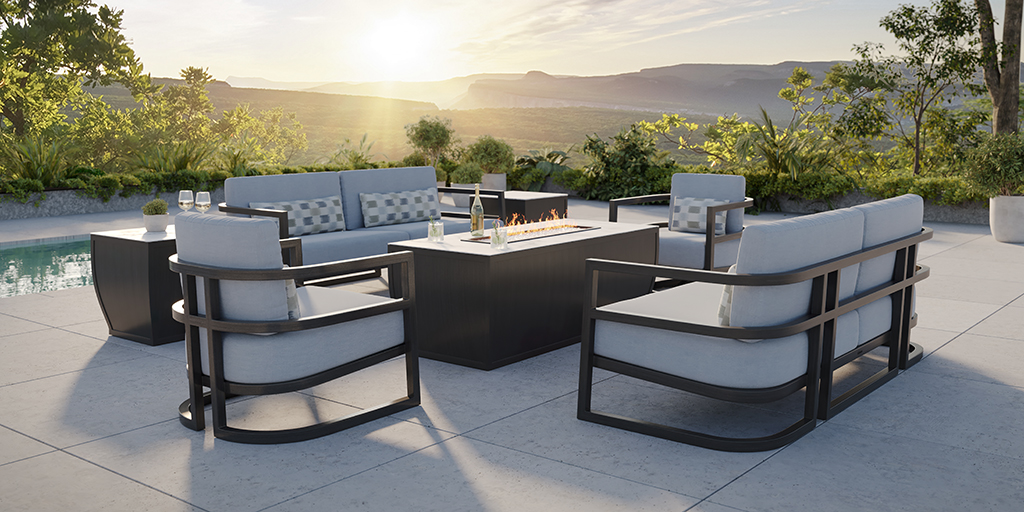 Inspired by the parallel movement of two dancers waltzing side by side, Gala by Castelle is true statement seating made for the outdoors. Its contemporary silhouette is a magical blend of straight lines and hard corners with a graceful wrap-around back that represents the joining of arms in dance. The pair of vertical tubes featured on the back panel support the seat frame as if it were effortlessly floating - bringing an airy lightness to the collection's refined look. Its durable extruded aluminum frame is built to endure the outdoor elements, while boldly proportioned cushions beckon with a plush seat and pillow back. Pair with one or several of our custom Castelle tables to transform any outdoor area into a luxury retreat for all seasons.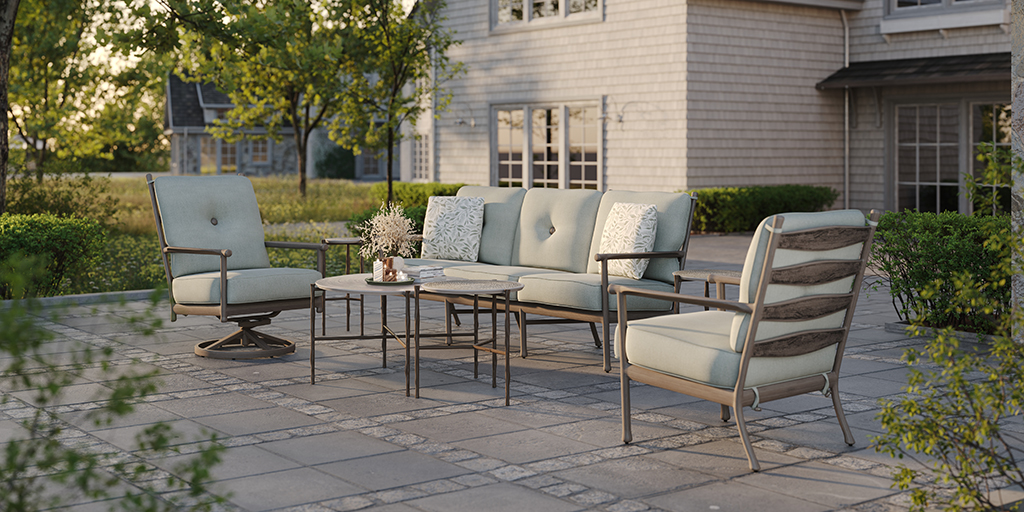 Embrace the nostalgia of simpler times with Lodge by Castelle. The timeless cushion seating collection brings the rustic feel of a classic cottage from long ago to today's outdoor spaces. Its rustic details are perfectly balanced with a modern slatted design for effortless casual style. Crafted with plenty of character and comfort, Lodge features a cast aluminum ladder back and comfortable flared armrests that are hand finished to resemble natural wood. Its tailored, plush cushions are constructed for next-level relaxation. The collection offers seating for every application from motion lounge chairs, lounge sofas and chaises to bar stools and dining chairs. Pair with Castelle custom dining, coffee or occasional tables to create a look that is exclusively yours.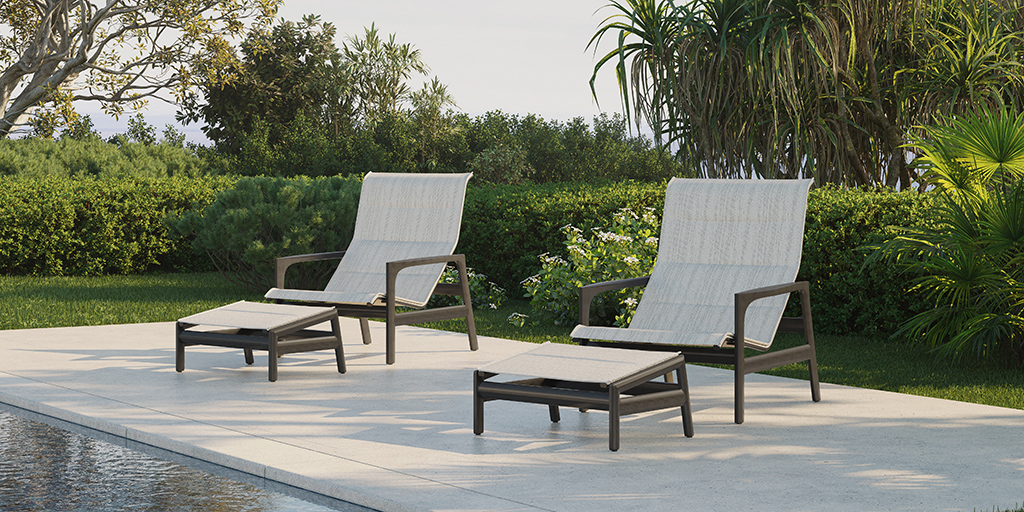 Invest in the ultimate outdoor luxury with the Berkeley Easy Lounge Chair with Sling Fabric. Whether you're seeking a peaceful escape or an inviting space to entertain guests, this lounge chair promises to elevate your outdoor experience, combining comfort, style, and durability like no other.
The Largo Table Collection by Castelle is the perfect marriage of fire and function. Every detail of these fine handcrafted tables is thoughtfully designed to evoke dignified style. Its tapered architectural silhouette makes a bold statement worth a second glance. Interchangeable side panels make it effortless to create the look you want. The smooth aluminum panels bring a clean modern feel, while the woven aluminum panels add a touch of warmth and texture. Largo tables can be paired with many of Castelle's luxury furniture offerings. The collection includes a cast aluminum coffee table, end table and fire tables that can be customized with any of Castelle's slate tabletops and your choice of hand-applied finish detailing.